Physical Education
Physical Education is a foundation subject in the National Curriculum and we use this as a basis for implementing the statutory requirements for each individual through a range of different activities. This includes but not limited to games, dance, athletics and gymnastics. Through this we ensure that all pupils:
Develop competence to excel in a broad range of physical activities
Are physically active for sustained periods of time
Engage in competitive sports and activities
Lead healthy, active lifestyles
Physical Education is taught in isolation at a minimum of one afternoon a week as well as being integrated where possible within other areas of the curriculum. Class teachers work in unison and collaborate with specialist sport coaches to deliver effective lessons and develop these core skills in all pupils whilst also catering for individual needs. Lessons are planned to utilise cross curricular links and enable all children to enjoy physical activity and learn the importance of a healthy and balanced lifestyle.
Skills are developed systematically and build on learning from previous years.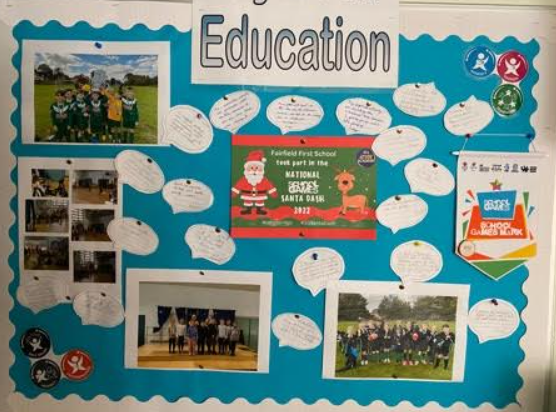 Key Stage One
Children should develop fundamental movement skills, become increasingly competent and confident and access a broad range of opportunities to extend their agility, balance and coordination, individually and with others. They should be able to engage in competitive (both against self and against others) and co-operative physical activities, in a range of increasingly challenging situations. Children are taught to:
master basic movements including running, jumping, throwing and catching, as well as developing balance, agility and co-ordination, and begin to apply these in a range of activities
participate in team games, developing simple tactics for attacking and defending
perform dances using simple movement patterns.
Key Stage Two
Children should continue to apply and develop a broader range of skills, learning how to use them in different ways and to link them to make actions and sequences of movement. They should enjoy communicating, collaborating and competing with each other. They should develop an understanding of how to improve in different physical activities and sports and learn how to evaluate and recognise their own success.
Children should be taught to:
use running, jumping, throwing and catching in isolation and in combination
play competitive games, modified where appropriate [for example, badminton, basketball, cricket, football, hockey, netball, rounders and tennis], and apply basic principles suitable for attacking and defending
develop flexibility, strength, technique, control and balance [for example, through athletics and gymnastics]
perform dances using a range of movement patterns
take part in outdoor and adventurous activity challenges both individually and within a team
compare their performances with previous ones and demonstrate improvement to achieve their personal best
Lessons include the following elements:
Lessons start with a clear intention of what will be achieved and how this will be achieved successfully.
Children complete a warm-up incorporating a pulse raiser and static/dynamic stretches.
Direct teaching of knowledge and skills linked to half term sport/activities
Opportunity through a range of activities (independently and cooperatively) to develop the skills taught under teacher supervision
Main activity of bringing the skills taught into a sports context e.g. a competitive game (adapted if necessary) or a routine.
Celebration and sharing of individual achievements is often incorporated
Opportunity to reflect on individual performances and highlight further progression
Lessons conclude with a cool down activity to prepare pupils to return back to a classroom environment